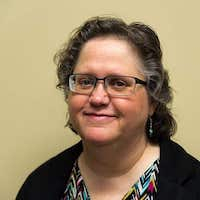 Latest posts by Susan L Fenrich, BC-HIS*
(see all)
The toll of hearing loss has become very apparent with the advent of the COVID-19 Virus. Most of the patients found in the hospital with Covid-19 are over the age of 65. Many also have hearing loss. This makes it more difficult for Patient/Doctor communication. Masks are being worn by everyone making it more difficult for those with hearing loss to understand what is being said. High frequency speech sounds are decreased by 3-4 decibels with simple medical masks and close to 12dB with the N95 masks. With the degradation of the quality of speech sounds, the lack of visual cues for lipreading, and the noise from within the room, those patients with hearing loss find speech unintelligible. This is worse if the medical staff has hearing loss too. Medical information must be understood for the patient to be compliant.

With the "Safer at Home" order in Wisconsin, you may be realizing just how bad each other's hearing might be as we are staying at home. You may be arguing about the TV volume. Accusations of not listening and mumbling may be going back and forth. You may realize that one or both of you has a hearing loss and should do something about it as soon as you can go out of your homes safely. You may want to schedule your appointment right away because there are probably many others thinking the same thing.
Tips for Talking to Patients or Family Members:
Speak Slowly.
Reduce Noise.
Get the person's attention.
Ask how the person wants to communicate.
Make sure those with hearing aids use them.
Consider using a portable hearing amplifier like a Pocket Talker®.
Rephrase the sentence if misunderstood.
Take turns while speaking to the person.
Do not shout, over-emphasize, or exaggerate your words.
Face the person when talking.
Do not speak while walking away.
If you are wearing a mask don't expect them to understand right away.
If your family member is a patient that has hearing loss but does not have hearing aids, contact Welsch Hearing Aid Company at 920-452-0213 to learn more about the Williams Sound Pocket Talker. If your hearing aid stops working and your hearing aid provider is not open call Welsch's too.
Source: https://www.hearingreview.com/hearing-loss/health-wellness/how-do-medical-masks-degrade-speech-reception