If you have had a sudden change in hearing you need to get your hearing tested right away in your local Ear, Nose, Throat Department at your local medical clinic. Sudden loss is considered a medical emergency. There is hope of regaining hearing some or all your hearing if treated right away. If you have been experiencing a gradual decline in hearing and are starting to ask others to repeat, or you are having to turn the TV or radio louder to understand, you should get your hearing tested to find out what type of hearing loss you have, how severe it is, and whether hearing aids or medical intervention might be necessary.
Schedule your Hearing Test Today!
Our bodies were designed to hear with two ears. Two ears allow us to hear in "stereo", which helps to improve our ability to localize sound. Our brain takes information from both ears to determine where the sound is coming from. With a hearing aid in one ear it would sound like all sounds are coming from that side, which can cause safety concerns, especially when driving. Two ears work better together when hearing in noisy environments. Two aids do not have to be turned up as loud as if you were only wearing one, making it more comfortable to hear. Wearing two aids, prevents auditory deprivation of the unaided ear, when that ear also has hearing loss, which may result in decreased speech recognition for the unaided ear. When hearing aids were first made, they processed sound individually. While one's ears tried to work together, the hearing aids were not. Today's smart hearing aids process the sounds together, allowing our ears to work together better. Ear-to-ear functionality or binaural imaging allow the two hearing aids to work together, like our two ears do naturally. Because the two hearing aids share information with each other they help you understand conversation better, especially in noise. Some of today's hearing aids with binaural processing, can make one's hearing better in noise than a person with normal hearing in noise. By wearing only one hearing aid you do not get the benefits of the hearing aids binaural sound processing capabilities.

Costs can vary greatly depending on brand, technology, features, style, warranties, and services included with the purchase price.
Depending on where you shop hearing aids can cost as much as $10,000 for per set at franchised providers, but not at Welsch Hearing Aid Company. Here prices start at less than $1,000 per hearing aid. We offer hearing aids in a full range of prices to work with your financial situation. Our Welsch Care Battery and Service Plan includes hearing aid batteries, cleanings, adjustments, and retests of your hearing for the life of your hearing aid warranty. This is provided with most hearing aids purchased directly from us.
With proper use and maintenance, the average life of a hearing aid is 3-5 years. Hearing aids are small electronic devices subject to your body chemistry, sweat, ear wax, humidity, hair products, poor handling and more. They will stop working at some point. After 5 years the costs of hearing aid repairs increase significantly and the repair warranties are shorter. Hearing can decrease, making a stronger hearing aid necessary. Technology continues to change, making an upgrade desirable. Some have had hearing aids last 10 years before replacing them—but that is the exception and not the norm. Do what you can to keep them free of moisture by using a hearing aid dryer, and clean them daily, changing your wax guards when needed. Have the hearing aids cleaned quarterly by a hearing professional is recommended. Preventive maintenance is key for increasing your hearing aids life.
At Welsch Hearing Aid Company we invite you to participate in The
Hearing Aid Test Drive™
before we order hearing aids. By doing this you can be assured of your success with the hearing aids you order. Once your desired aids arrive you will be given an adjustment period. During this time, we work with you to make sure the hearing aids are comfortable and that you have significant improvement in your hearing and conversational needs. If for some reason your hearing needs have not been met, they may be returned, or another hearing aid may be ordered per terms on the hearing aid delivery receipt.
Proper maintenance and care will extend the life of your hearing aid. Make it a habit to:
Attend your professional quarterly clean and check appointments.
Keep hearing aids away from heat and moisture.
Clean hearing aids as instructed. Earwax and ear drainage can damage a hearing aid.
Avoid using hairspray or other hair care products while wearing hearing aids.
Turn off hearing aids when they are not in use.
Replace dead batteries immediately.
Store your hearing aids in a drying agent or dehumidifier designed for hearing aids.
Keep hearing aids and batteries out of reach of children and pets.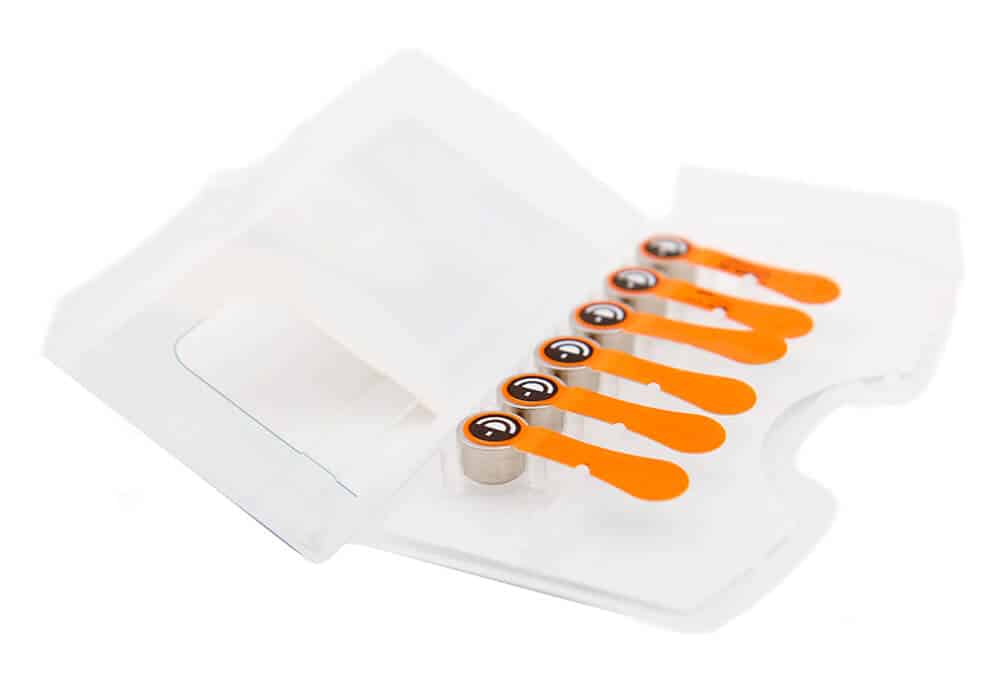 If possible, once you take the sticker off your hearing aid battery, wait 10 minutes before closing the battery door. This can improve the battery life significantly. The longer the battery is exposed to the air before using, the greater its voltage will be. Going beyond 10 minutes makes little difference.
Store the batteries in a cool dry place. If kept in the glove compartment of your car, or another warm place, the heat will loosen the sticker causing it to activate prematurely, thus shortening its battery life or causing it to die in the package.
Do not refrigerate the batteries—the moisture can seep into the air holes.
Make sure you open the battery doors to turn the hearing aid off, when not in use
Purchase your batteries from you hearing aid provider—their batteries are fresher than those in Big Box Stores or other local stores. When batteries are warehoused there is a good chance that they have been in storage for a long time without proper temperature control.
Make sure your hands are clean when changing the batteries, so you do not fill the air holes with lotion, or grease from foods.
If you are not sure which battery is the good one after taking the sticker off, drop the battery on the table. The battery that bounces is the old one. New batteries do not bounce, and they landed with the flat side on the table.
Do You Have a Question for Us?
If you are seeking an answer to a different hearing question, send it our way and we will respond with an answer.
[caldera_form id="CF5cfec4244d503"]